First Step Physical Therapy boasts a full sports rehabilitation practice, helping athletes recover from injuries they sustain on the field while also preventing further injury.
After sustaining an injury, athletes aim for one thing: To get off the bench and back on the field as quickly as possible. At First Step Physical Therapy, we understand that impulse, and we're here to make it happen-- all while helping our athletes to heal properly and to minimize the risk of re-injury.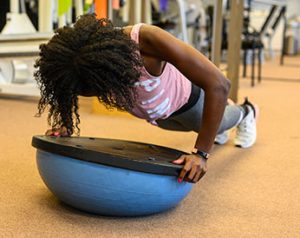 As one of Long Island's leading sports therapy providers, we take a one-on-one, relational view of each patient, working to get them back on their feet quickly while also ensuring that they are healing properly. The goal of our sports therapy program is to help you build strength and stamina for the long haul, and also to show you some important ways you can prevent getting injured again in the future.
When you finish your sports rehabilitation, you'll be discharged with a complete understanding of your ongoing treatment plan. We'll send you home with an exercise plan, and you'll also have the option to utilize* our facility for your continued workouts—and have the staff available to answer any questions you may have with your ongoing independent rehabilitation.
We are thrilled to work with college, high school, amateur, and professional athletes of all stripes, including those who are involved with basketball, soccer, football, baseball, track and field, and beyond.
Are you ready to get off the bench? Reach out to First Step to schedule an appointment to begin your customized sports rehabilitation program.