First Step Physical Therapy is widely known for its work in helping patients recovering from a recent amputation and amputees adapting to new prosthetics as they regain their mobility.
At First Step Physical Therapy of Long Island, one of our passions is getting to know those who have recently experienced limb loss, and helping them find their bearings amidst this "new normal." Physical therapy after amputation can be invaluable, not only providing the patient with the proper education but also the confidence they need to tackle new challenges and develop new ways of using their body—this is our specialty.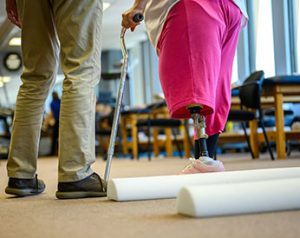 Our hands-on therapists and friendly, upbeat staff will work closely with you, developing a physical therapy plan that helps you build strength and improve mobility one step and one day at a time. Using a combination of unique education, clinical experience, specialized treatment, and state-of-the-art equipment like the AlterG® treadmill, we guide you through successful recovery in order for you to reach your highest physical potential. We also have a free-step overhead track system that can expedite a healthy rehabilitation while minimizing discomfort.
In addition, through close communication and coordination with prosthetists, we help facilitate proper fitting and adjustments of our clients' new prosthetics. And once you're fitted with the prosthesis, we'll work with you to learn how to use it naturally and effectively, with the end result being a full range of motion that feels like second nature.
To learn more about physical therapy in Queens, Suffolk, and Nassau, reach out to First Step Physical Therapy today.