First Step Physical Therapy is known for providing a full range of orthopedic rehabilitation services, helping clients achieve a full range of motion and a higher level of fitness.
Research has shown time and time again that physical therapy can expedite recovery from an injury, traumatic accident, or other orthopedic condition. At First Step, our friendly and attentive staff is standing ready to provide orthopedic physical therapy, helping our patients resume their normal strength and mobility sooner rather than later. Whether your goal is to walk to the corner store or perform as a high-level athlete, our shared goal is to have you return to your prior mobility level.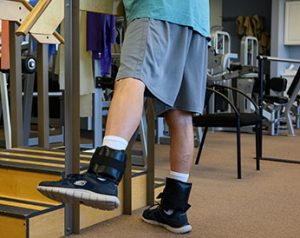 Our program will start with an in-depth physical therapy evaluation to determine your individualized treatment needs. As we begin your treatment program, we will provide, review, and train you in a home exercise program. After carefully discussing your condition and outcome expectations with you, we will work together to develop a plan of care. As your program progresses, we'll move forward with your individualized treatment goals and needs in mind.
Once you've wrapped up your treatment, you have the option to utilize* our facility for your continued workout program—and have the staff available to answer any questions you may have with your ongoing independent rehabilitation.
Learn more about our Orthopedic Rehabilitation on Long Island; contact us today.
*Contact the office to learn about the membership details.