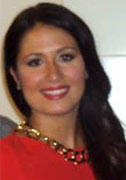 Susan Gregory is a Physical Therapist at First Step Physical Therapy.
She graduated from Binghamton University in 2011 with a bachelor of arts degree in Biological Sciences. Thereafter, she graduated from LIU Brooklyn in 2014 as a Doctor of Physical Therapy, where she received the Dean's Award for Clinical Excellence.
While at LIU Brooklyn, she performed clinical rotations at Nassau University Medical Center, S.T.A.R.S. Physical Therapy, Bethpage Physical Therapy, and Gurwin Jewish Nursing and Rehabilitation Center, developing the clinical practice skills needed to treat a diverse patient population. She also participated in continuing education courses including Proprioceptive Neuromuscular Facilitation I offered by the Institute of Physical Art and Evidence Based Examination and Management of Shoulder Pathologies offered by C&M OrthoSports.
During her clinical rotations, she developed a passion for orthopedics and manual therapy. In order to expand her knowledge base, Susan will be pursuing a post professional residency program in order to become recognized by the American Physical Therapy Association (ATPA) as a board certified orthopedic clinical specialist. 
Susan strives to be a life-long learner in order to advance her clinical practice skills to provide high quality patient centered care.